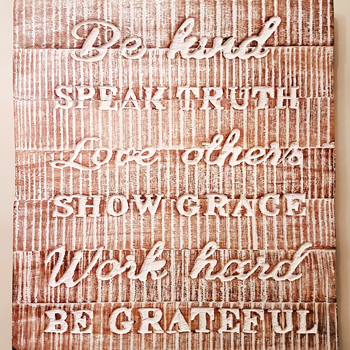 Last week's preparation for teaching a Reiki 2 course over the weekend.
Reiki 1 is about 6 months of self-healing. Firstly clearing your own energy before you try to help someone else clear their stresses and emotional baggage.
Reiki 2 is learning to clear negative energy from the client's body that is not serving them in their life as well as being attuned to new symbols to help amplify the energy you already have.
I was printing the manuals and was looking at the Dr.Usui Reiki Principles
JUST FOR TODAY
I WILL NOT WORRY
I WILL NOT BE ANGRY
I WILL DO MY WORK HONESTLY
I WILL GIVE THANKS FOR MANY BLESSINGS
I WILL BE KIND TO MY NEIGHBOUR AND ALL LIVING THINGS
If we choose one of these principles a day and try to build ourselves up to using them all. Our lives would be so different. Even saying the words "I will not worry" is an affirmation. What you believe you can achieve. It's the law of karma. What is the point in worrying about something that may never happen. This is a human trait, we worry because we don't know what's coming over the horizon and the fears set it. When we get into this mode of thinking everything in our lives is affected.
My favourite principle is 'I will give thanks for many blessings'. We forget to give thanks for the simple things in life like the air we breathe, the wind in the trees, the laughter of a child or our Irish mystical rain clouds.
I saw a man broken down at the side of the motorway last week with a punctured tyre. I'm sure he wasn't thankful while he was kicking it with a red face. Maybe this puncture was slowing him down so he wasn't involved in a crash up ahead on his journey. There is always a blessing in disguise. There are no coincidences everything happens in divine timing.
So no coincidences that after I was thinking about these principles I came across this plaque in the home section in Tkmax. I love the way you don't have to go to a weird dusty shop to get your spiritual books and pictures. I even got an amazing amethyst tea light there recently.
Thanks to the Universe for providing this plaque to me.